News
Malachy Maher finalist in 2017 Millipore Sigma 3D Printing in the Life Sciences Award.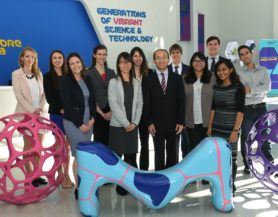 As a recent graduate of the double Master of Biofabrication program, Malachy Maher was one of four finalists in the prestigious MilliporeSigma 3D Printing in the Life Sciences Competiton. He was the only finalist from a Master stage program.
MilliporeSigma is the USA branch of Merck. Candidates were eligible if they had worked on 3D printing for a life science application during their Master or PhD study and had graduated or /were to graduate between 2016-2018. The competition was open to candidates from Canada, USA and Europe. MilliporeSigma received several dozen applications and four were selected as finalists to present in Boston. The winner was Alexandra Rutz, a second-year postdoc, currently working at the University of Cambridge, with her work on engineering hydrogel inks for 3D tissue and organ printing.
The finalists presented at the brand-new Burlington facility of Millipore Sigma in Boston. The work that Malachy Maher presented concerned the development of a cardiac patch that he completed from 2016-2017 at the Regenerative Medicine Center Utrecht under supervision of Dr. Miguel Castilho, Prof. Dr. Ing. Jos Malda from the Biofabrication group and Prof. Dr. Joost Sluijter from the Cardiology Group. This was his second year in the Master of Biofabrication Program, his first year was completed in Australia, at the University of Wollongong in Prof. Gordon Wallace's group.
Maher's work focused on the problem of heart failure. Heart failure is a disease with a high need for new therapies, because current therapies only provide symptom control to some degree. Cell therapy is being developed, which involves injecting cells into the heart to regrow damaged muscle and help the heart beat normally again. However, most of the cells get washed away after injection, so the idea to put them into a cardiac patch is being investigated. The idea of a cardiac patch is to print a scaffold and put cells on it so that they can be supported and grow.
The heart needs scaffolds that can stretch and shrink with every heartbeat. To accomplish this, a 3D printing technique called Melt Electrospinning Writing (MEW) was used. As a new concept different architectures were printed in the scaffolds and with this technique they stretched very well. Maher completed mechanical testing on these scaffolds to quantify their ability to stretch and recover, which was successful as the new architectures performed significantly better than traditional scaffolds with lattice architectures created with the same technique. In a next step, induced pluripotent stem cell (iPS) derived cardiomyocytes were added to the scaffolds. These cells began contracting on the scaffold after two days, and continued to contract for the duration of the experiments.
The jury was impressed with each of the presenters, who combined 3D printing techniques with cells to create novel solutions to global healthcare challenges. Two of the applicants, in the final stages of their PhD's had progressed to implant these scaffolds in-vivo to assess their function. The future of this Cardiac Patch work will aim to push the cardiomyocytes to maturity and generate functionally relevant, strong contractions, so that the patch can be implanted and its efficacy in-vivo examined.
More information about the award can be found on the website of Merck MilliporeSigma.