News
HydroZONES: shaping the field of biofabrication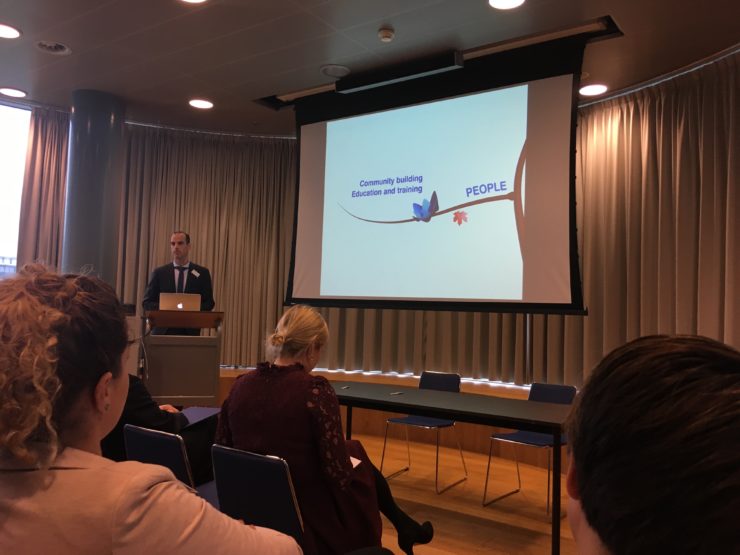 HydroZONES is a consortium project that received funding from the European Union's Seventh Framework Programme for research, technological development and demonstration under grant agreement no [309962). In the project a strategy was studied to regenerate articular cartilage based on biofunctional hydrogel-based implants that mimic the zonal structure and function of this tissue.
On November 15th there was a closing symposium highlighting the impressive results. HydroZONES has brought many benefits and shaped the field of biofabrication as Professor Jos Malda, one of the project leaders explained. This research area is young, only in 2009 the Journal of Biofabrication was established and in 2010 the International Society for Biofabrication was founded. The number of attendees at the annual meeting of this Society rised from 50 at the start up to 450 in 2017 and is expected to continue to increase further, illustrating the blossoming of this multidisciplinary field.
HydroZONES not only brought more than 65 high quality scientific publications and 15 theses so far, but also big steps forward in education, outreach to society, collaboration with and results for companies and guidance in quality control and regulatory topics.
The initiative was taken to establish a double degree master program for students from the European Union and Australia with a 10-month research component. Strongly supported by the European Union and the Deans of the four involved universities this master program started in 2015. Emma Muinos Lopez, PhD and, one of the graduates of the first group passionately described her experiences and further opportunities. She started with only a national network in Spain and expanded this to a network with parties in many different countries, she learned various new techniques, became experienced in in vivo models and also grew in self-confidence.
The company perspective was delivered by Linda Kock, PhD and working at the Life Tec Group. This organization has within HydroZONES set up an ex vivo test system for joint biopsies: the osteochondral platform. The model is highly beneficial to be used as a step before animal experiments, so that these can be better targeted, meaning that far less animals are needed.
Professor Juergen Groll, the consortium leader of HydroZONES concluded at the end of the day that working in a project like HydroZONES is worth all the hours that had to be put in upfront and the occasional frustrations to get funding for the project and to get it up and running. He reflected upon the joy of being part of a large community of researchers with a common goal. Last but not least he mentioned the importance of a true international spirit, a spirit that in society is not as common anymore as in previous days- but in his vision enriches man and brings concrete results.